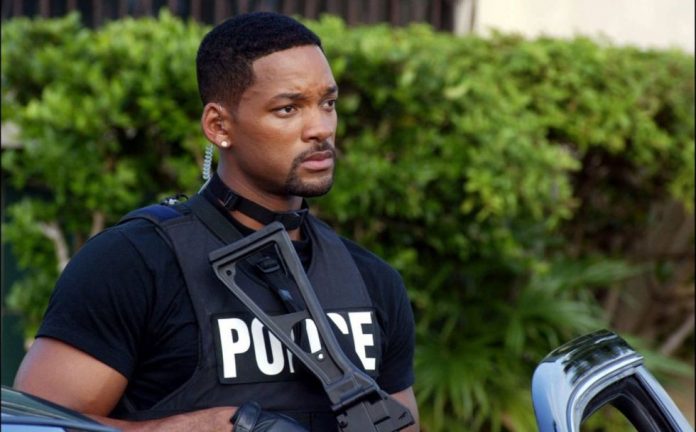 Having conquered music and then television with the Fresh Prince of Bel Air, Will Smith started to attract movie roles. He studied past actors who had made the move from TV to the big screen like Robin Williams and set about becoming one of the biggest Hollywood stars in the world. Below you can find a complete list of every movie Will Smith has starred in.
Where the Day Takes You (1992)
His first role was in a small movie called "Where the Day Takes You". Will played a man in a wheelchair and only appeared on screen briefly.
---
Made in America (1993)
His next big feature was a minor role in the Ted Danson and Whoopi Goldberg comedy, "Made in America". Will played up his comedic charm and his girlfriend in the movie was Nia Long, who would later play his girlfriend again in "Fresh Prince of Bel Air". Will played the big comedic scenes with big facial expressions and got the laughs playing a character similar to the Fresh Prince.
---
Six Degrees of Seperation (1993)
Will's first big acting challenge was in the independent Fred Schepsi film, "Six Degrees of Seperation" alongside acting heavyweights Stockard Channing and Donald Sutherland. Will stretched himself and went out his comfort zone playing a gay con artist Paul. The movie still stands up to repeat viewing today. In preparing for the role, Will completely inhabited the character which he would do again for Ali, blending the line between his acting portrayal and reality.
---
Bad Boys (1995)
Will Smith's first big blockbuster was definitely, the 1995 action movie flick, Bad Boys. Teaming up with Martin Lawrence and first time director Michael Bay, they took a substandard script and improvised their way to hilarious comedy and high octane chemistry and explosions on an extremely low budget. The movie outperformed all expectations making over a $100 million at the global box office and making people start to realise the Fresh Prince just might work on the big screen.
---
Independence Day (1996)
In 1996, Will Smith wrapped up 6 seasons of the Fresh Prince of Bel Air and set his sights firmly on becoming a Hollywood movie star. Having studied box office receipts and noting Science Fiction produced all the biggest grossing movies, Will Smith came out with the must-see July 4 blockbuster, Independence Day. It was the ultimate event movie, it didn't have the greatest script, it wasn't the greatest movie, but you had to see it on the big screen and you had to see Will charming his way through the movie with Jeff Goldblum and kicking some alien butt. Will had finally crossed over from the small screen, he had arrived as a movie star. Even though the cast was a huge ensemble, Will was the one you were talking about after leaving the cinema.
---
Men in Black (1997)
Independence Day started Will's dream run of US box office hits and Men in Black was his second home run. Teaming up with Tommy Lee Jones and Coen Brothers cinematographer Barry Sonnenfield, Men in Black was original, quirky, funny and seriously entertaining. It was a great concept that was perfectly played for laughs and action and it became the hit of the summer of 97. Will solidified the impact with a return to rap and the theme song from the movie was the most played song on radio for the year.
---
Enemy of the State (1998)
Will took on an action pic next starring alongside Gene Hackmen. Enemy of the State is arguably Will's best movie. It has a very tight script, is extremely fast paced, and the acting is some of his best. It was another hit and hugely satisfying movie.
---
Wild Wild West (1999)
Wild Wild West saw Will reunine with Barry Sonnenfield. Looking back it is an odd movie, overblown effects, a strange story with a giant mechanical spider and a lot of overacting from Kenneth Branagh. There was no chemistry between Will and Kevin Kline, the story was lame and there were few laughs to be had. It still made hundreds of millions of dollars though as Will Smith fans were rushing out to see his latest movie after his string of hits.
---
The Legend of Bagger Vance (2000)
Is a movie about golf really entertaining? Apparently not. This largely forgetable pic featured Matt Damon and quickly came and went at the cinema.
---
Ali (2001)
Ali was Will Smith's play to win an oscar. He through everything into his performance of Muhammad Ali. It was a great performance but unfortunately the movie didn't maintain the gripping tale of Cassius Clay' life. The movie was long and unweildly and never reached the heights it should of. Still, Will's performance was one of his best.
---
Men in Black II (2002)
There wasn't a good script, there wasn't anything better than the original and this movie fell very flat. People came out to see it because they loved the first but were left underwhelmed.
---
Bad Boys II (2003)
When Will Smith, Martin Lawrence, Michale Bay and Jerry Bruckheimer reunited for a Bad Boys sequel they were all at the top of their game. And they produced one of the most over the top action movies we have ever seen and perhaps one of the greatest action movies of all time. With a much bigger budget Michael Bay took Bad Boys to the next level. The chemistry between Will and Martin was undeniable and the sparks truly flew on the screen. This movie is immensely rewatchable and it's action sequences have never been matched since.
---
I, Robot (2004)
Alex Proyas', "I, Robot" wasn't perfect but it was still a pretty good movie. Will gave a strong performance and the concept and story was strong. It probably just failed in the last act.
---
Sharktale (2005)
Sharktale was Will's first animated movie. It was a fun movie from Dreamworks but didn't reach the heights of the Pixar movies of the time.
---
Hitch (2005)
Hitch was a truly great return to form for Will. AFter a string of action and Sci-fi movies he turned to a romantic comedy. He could once again use all his charm and charisma and the chemistry with Eva Mendes in this movie was strong. His character was interesting, and with strong perfomances from himself and Kevin James their was plenty of laughs and great entertainment. It remains one of Will's best movies and you always end up with a smile on your face after watching it.
---
The Pursuit of Happyness (2006)
This was a strong dramatic movie from Will that once again earned him an Oscar nomincation. A young Jaden Smith gave the best performance he has ever given on the big screen. With great performances, strong acting and a heartwarming story this dramatic tale became a surprise box office hit.
---
I Am Legend (2007)
Will made another great genre choice here moving into horror with an end of the world thriller. Will played the last man on earth brilliantly and carried the movie all by himself. The movie was a huge hit and was only let down by a poor final 10 minutes. Unfortuantely testing changed the original ending and they had to reshoot it. The first half of the movie though is gripping and Will's acting is extremely strong. The zombies come into the movie towards the end and the poor CGI does detract from the danger.
---
Hancock (2008)
The screenplay for Hancock was brilliant and this was a brave movie role for Will. While Superhero movies were huge at the time this was baout a superhero who was depressed and suicidal. It was a very different movie for Will tonally, unfortunately once Hollywood got a hold of the movie they took out most of the brilliant and controversal scenes. What we were left with was ultimately dissapointing. It did however make a huge amount at the box office, and was Will's 7th movie in a row that made over a $100 million dollars at the US box office, a feat that has never been surpassed. In 2008 Will had solidified his place as the biggest movie star and biggest box office draw in the world. Unfortunately a series of poor film choices from here on out would mean it wouldn't last.
---
Seven Pounds (2008)
Seven Pounds was a dreary solemn movie. Will's charm was nowhere to be seen and this movie quickly disappeared from movie screens shortly after it was released.
---
Men in Black 3 (2012)
Will spent 4 years not making a movie instead focusing on his family. When he returned he was looking for another box office success. He got it in Men in Black 3 which made $600 million worldwide. Unfortunately Tommy Lee Jones barely appeared in the movie and although slightly better than MIB2 this sequel had lost all the charm of the original and was not very memorable.
---
After Earth (2013)
With a focus on his family Will decided to cast his son as the main character of his next movie. The movie and Jaden's acting was terrible and the movie was roundly panned.
---
Focus (2015)
After the disappointment of After Earth and a string of box office failures Will returned with Focus. Starring opposite the very hot Margot Robbie the movie is a fun caper and stars Will as a con artist. The movie is good and solid but not on the level of Will's biggest hits. It was another movie that failed to pass $70 million domestically.
---
Concussion (2015)
This movie was another attempt at an Oscar from Will. It didn't garner that many good reviews and failed to get any Oscar nominations. It was barely seen by anyone. At this point Will's box office stardom was on a definite downward trend.
---
Suicide Squad (2016)
The promotional campaign leading up to the release of this movie was huge. The trailer featuring Margot Robbie as Harlie Quinn generated huge buzz. This was Will's first venture into a huge comic book movie. It is one of his biggest box office hits of all time as part of an ensemble cast. Whether it was hollywood interference or just a really bad script the movie failed to live up to the hype.
---
Collateral Beauty (2016)
Featuring an amazing cast of Oscar winners, this interesting independent pic set in New York had a strong script and good message. Unfortunately Will once again was playing a depressed man the entire movie, his wit and charm was nowhere to be seen and the movie did not resonate with audiences or critics.
---
Bright (2017)
Bright was an interesting concept and launched directly on Netflix bypassing the box office. It was one of the most watched movies on Netflix at the time but was quickly forgotten. Did Will Smith have any Hollywood hits left in him?
---
Aladdin (2019)
After a string of poor movies and box office failures Will decided to play Aladdin in a live remake of the cartoon. The role was destined for Will to play. He used all his charm, charisma, comedic timing and music ability and put in one of his best performaces of his career. He elevated the movie to another level and with two strong performances from the lead characters the movie became a huge global hit and was loved by young and old audiences alike.
---
Gemini Man (2019)
With Ang Lee directing this should have been better. It was too focused on the special efx and Will playing a younger version of himself. The story couldn't carry the film and it was gone from cinemas within a couple of weeks of release.
---
Bad Boys for Life (2020)
25 years from the first Bad Boys and 17 years from Bad Boys 2, Will Smith and Martin Lawrence are finally reunited. Michael Bay is no longer a director and many were wondering if this sequel was neccessary. The movie suprised everybody playing up the facts that Marcus Burnett and Mike Lowery were aging cops. The movie had heaps of laughs and plenty of action and in the year of COVID-19 it became the biggest movie of the year.
---
King Richard (2021)
Will plays Richard the father of Venus and Serena Williams.