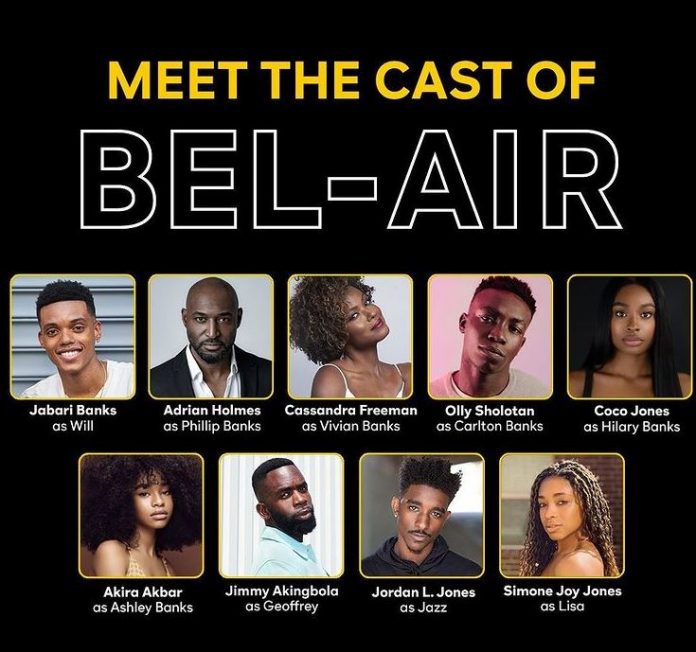 The full cast for the new Bel Air show has been announced. The re-imagining of Fresh Prince of Bel Air as a drama series is coming to NBC's Peacock streaming service later in the year. A lot of the cast is generally unknown actors and Jabari Banks who is set to play Will is a complete unknown having not starred in any other TV Shows or movies. It is a huge gamble but hopefully it will pay off if the cast can develope as good a chemistry as the original series. One of the more interesting announcements in the cast list is that Lisa will have a recurring role, meaning Will is going to have a girlfriend from the start of the series. Also Jazz will be back as Will's best friend and DJ.
The full cast is below.
Jabari Banks – Will Smith
A lot of the show is going to weigh on Jabari. Will he be able to match the charisma of Will? It is big shoes to fill. The good news is he is from Philadelphia. Here is a short video of Will telling him he is going to be playing the Fresh Prince.
Adrian Holmes – Phillip Banks
Adrian has over 100 film and TV roles to draw on to play Uncle Phil. He is most known for his roles in "Arrow", "V-Wars" and the movie, "Skyscraper" with The Rock.
Cassandra Freeman – Vivian Banks
Cassandra Freeman has appeared in quite a number of TV shows including "Blue Bloods", "Numb3rs" and "The Enemy Within".
Olly Sholotan – Carlton Banks
Olly Sholotan does not have a lot of credits and he is just 23 years of age. The chemistry he will have with Jabari is going to be critical for the dymamic of the new show.
Coco Jones – Hilary Banks
Coco Jones has starred in a few TV shows dating back to 2010 including "So Random," "Good Luck Charlie" and "Five Points". This is the biggest role she has landed to date.
Akira Akbar – Ashley Banks
Akira Akbar is the youngest member of the cast but she has already had roles in "Captain Marvel", "We Can Be Heroes" and "This is Us".
Jimmy Akingbola – Geoffrey
Jimmy has an extensive TV career dating back to 2002 and has appeared in British TV shows such as "Holby Blue", "The Bill" and "Doctors" as well as American TV series like "Arrow", "Macgyver" and "Ted Lasso".
Jordan L. Jones – Jazz
Jordan has had some guest appearances in a few TV shows including "The Rookie," "Shameless", "Rel" and "NCIS:Los Angeles".
Simone Joy Jones – Lisa
Simone's only other show before landing Bel Air is "The Chair."