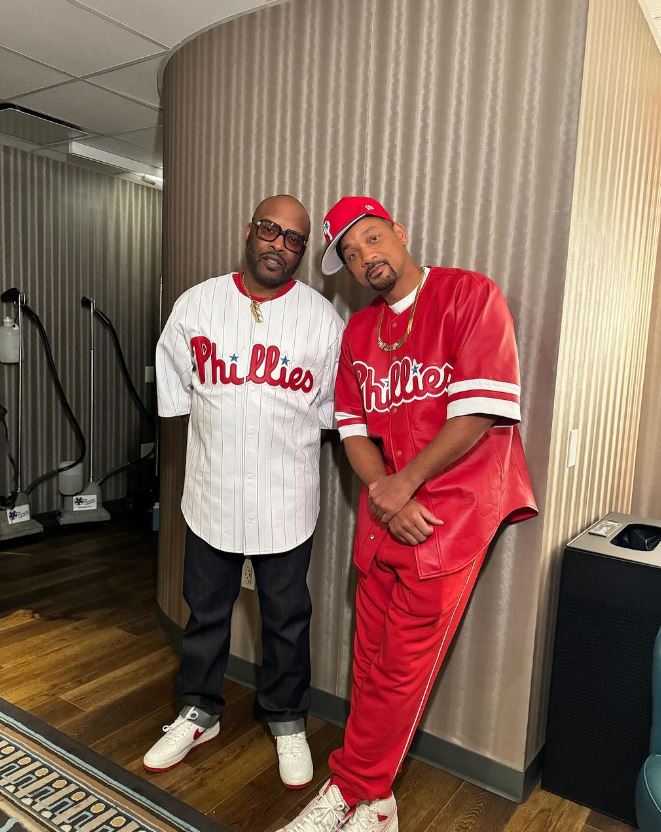 Jazzy Jeff & Fresh Prince have reunited for a special Grammy salute to 50 years of hip-hop. They recorded their performance last night in LA in a special celebrating hip-hop's 50 years.
Other performers on the night included Arrested Development, Big Daddy Kane, Black Sheep, Cypress Hill, Digable Planets, DJ Quik, E-40, GloRilla, Gunna, Jeezy, Juvenile, Latto, Luniz, MC Lyte, Roxanne Shanté, Spinderella, Three 6 Mafia, T.I., Too $hort, 2 Chainz, Warren G, YG, Black Thought, Bun B, Common, De La Soul, Jermaine Dupri, J.J. Fad, Talib Kweli, The Lady Of Rage, LL COOL J, MC Sha-Rock, Monie Love, The Pharcyde, Queen Latifah, Questlove, Rakim, Remy Ma, Uncle Luke and Yo-Yo.
Machine Gun Kelly, Common, ?uestlove who coordinated the performance were seen in backstage. As well as the original Too Damn Hype Crew of Charlie Mack, Omar Rammbert (O-Money), Will Smith and Jeff Townes.
Jazzy Jeff & Fresh Prince released their first record in 1986. They won the first ever Grammy for hip-hop but boycotted the awards because it wasn't televised. Will and Jeff wen't back to the stage dressed in their Phillies gear which they wore when they won for Gettin Jiggy Wit It in 1998.
You can see previews of the show at Will Smith & DJ Jazzy Jeff's Instagram accounts.
They also won a Grammy for Summertime which they performed as they closed out the concert.
The live concert special will air on Sunday, Dec. 10, on CBS and Paramount+.