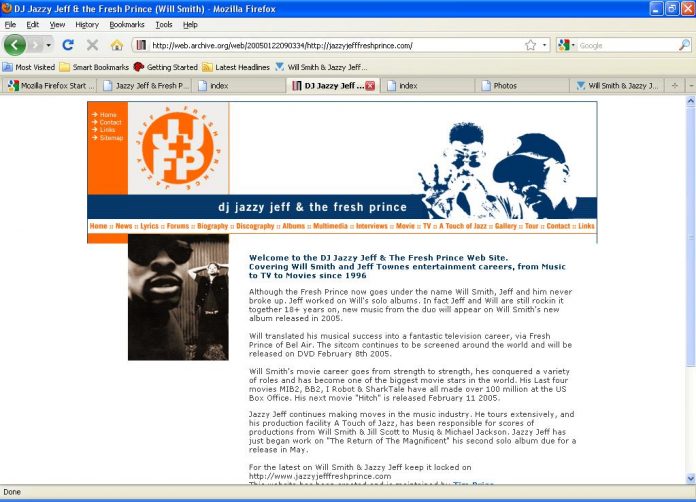 In 1996, at the dawn of the Internet a young teenager from Australia created a web site about his favourite rap group. Looking back now, 20 years later, I could never have imagined how much this site would impact on my life.
The Beginning
Let me paint the picture of 1996. I'm 16, in high school, and my favourite group is Jazzy Jeff & Fresh Prince. The first album I ever bought was Homebase. I still vividly remember putting in the CD and being blown away by the Fresh Prince killing it on, "I'm All That". I was a huge fan, at the time gangsta rap was massive, my friends listened to 2PAC, Biggie, Snoop and Dr Dre. I got into many arguments defending Jazzy Jeff & Fresh Prince. I was a true believer and if you had their albums you knew how they represented the very essence of hip hop. Everyone who mocked Will I responded by giving them a cd, or a mixtape I made of the best of Jazzy Jeff & Fresh Prince. All the quality hip hop, Brand New Funk, I'm All That, Something like Dis, Jeff Waz on the Beat Box. Most admitted after listening that yep, Will could rap!
In my art class, I took over the tape deck and played Jazzy Jeff & Fresh Prince. My best friend was the school captain, so I gave him my JJFP mixtape, he'd go to reception and play it over the loud speakers. In this quadrangle of an all boys catholic school, Code Red, the track, was playing and Australian kids in blazers and ties were getting down to it!
So how did the web site start? Well back in 1996, the Internet was not that well known. My dad was a professor at a university, so the first contact I had with the Internet was the computer in his office. So if you understood how big a JJFP fan I was, yes I'd read over liner notes religiously while I listened to their albums, when I first used the internet what did I do? Well I went to something called Magellan (there was no Google back then) and I did a search for Jazzy Jeff & Fresh Prince. There were no web sites about them back then. The only thing I found was a site called CDNOW, where you could buy CD's and I was able to listen to snippets of Code Red. I thought this was very cool.
A Website is born
So one day my brother had bought the latest version of Microsoft Word, Word 97. This was released in November 1996. So I opened it and was playing around and realised that for the first time you could create a web site within Word. This seemed really cool to me so I started messing around with it. So what web site did I create? Well one about my favourite group of course. I had From Da South playing on my brothers CD Stereo on repeat and I started to layout the web site. You also have to understand that in 1996 there was no hope of Will ever releasing another rap record. He had pretty much said in interviews he was disillusioned with gangsta rap and he just didn't feel there was a space for him anymore. Also you hadn't heard from Jeff in a long time so I didn't even know what he was up to. So this web site was basically looking back on the career of Jazzy Jeff & Fresh Prince and chronicling their 5 albums in 7 years from 1986-1993. So I wrote something on each album and after a week or so I had a web site. It was one page but it was a web site and I uploaded it to my brother's web account on the internet which was something like netspace.com/matpr. I remember I put a counter on the web page, one of those old school black and white web counters. After about a month the web site had hit 100 views. 100 views, wow I thought, that is so cool.
Then something amazing happened. I was listening to the #1 hip hop/rnb radio show in Melbourne and they said next week we have Will Smith's new single. Yeah you listened to the radio back then. I couldn't believe it. I tuned in and for the first time I heard Men In Black. Will had actually returned to rap! Not only that but 'Men in Black' became one of the biggest rap singles of all time. With Will back in the game I slowly started to build the web site.
By 1998 the web site had expanded from one page to multiple pages and included lyrics, album reviews, a discography, biography and even a guestbook. I listened to the JJFP tracks and wrote the lyrics out myself. I knew the mistakes I made doing this so when I saw my lyrics on other web sites I knew they had stolen them from me (even though some still tried to deny it).
As we got to 1999 I updated the site again, more interviews, biographies and reviews and plenty of information on Willennium. By this time the forum had started to grow and the community was starting to build.
The Internet evolves
In 2001, my brother, a graphic designer completely redesigned the web site for me. Now it looked good and the content had built to something impressive. I now had over 300 pages of information on Will and Jeff covering their career from music to television and movies.
In 2002, Stacey from squarebiz in Philly showed Jeff the site. How did she see the site? I think it was because I was a member on the roots okayplayer forums and I had the web site in my signature. Jeff actually left a message on the guestbook for me to contact Irize at A Touch of Jazz because he was working on his web site. So with this message from Jeff I rang Irize. When I told her she had no idea what I was talking about but I left my phone number with her. I still remember ringing A Touch of Jazz and being happy to be on hold because they played "So Fresh."
Meeting Jazzy Jeff and Will Smith
In 2002 I got to see Jeff DJ for the first time in Australia. He came out with Pauly Yams and Vee who largely let Jeff do his thing, he played vinyl and rocked it for more than 3 hours. It was an amazing set and still remains one of my favourites. Since then I have seen Jeff DJ over 20 times. Every time I count my blessings and think of how lucky I am to see Jeff do his thing. It's always interesting to see the different sets, different audiences and the way the crowd reacts to the music. It's a great feeling to view everything from the stage so I can understand why so many people want to be DJ's. It also highlights to me that no matter how the technology advances the ability to select tracks and mix them together can only be done by a great music lover and DJ.
In 2004, at the last minute Will invited Jeff to come to the 'I, Robot' premiere in Sydney and Will was going to perform. Jeff had just done a show in Spain and flew 30 hours straight to get to Sydney. Jeff invited me to come along.
Jeff's manager picked me up and we went up to Will's hotel room. Outside the window was an amazing view of the Sydney Opera House. I had no idea what I walked into though. Jeff was playing a beat, which sampled the Spiderman theme and Will had his pad out and was writing a rap. When we were talking Jeff mentioned the track "Impeach the President." Suddenly Will launched into "From Da South" off the top of his head. To see Will rap this rare b-side off the top of his head 12 years after he made it was amazing. The fact that I listened to that track on repeat when I created the Jazzy Jeff & Fresh Prince web site made it all the more perfect. Jeff said, "You remember that and you forget Men In Black?" Trademark humour from JJFP. It was pretty clear even though Will had become one of the biggest movie stars in the world he was still an emcee and still the Fresh Prince. You could tell how much he loved being a rapper. It still blows my mind that I was actually in the room when Will and Jeff were coming up with a track, it eventually became "Here He Comes" off the Lost & Found album. It's a moment I will never forget.
Later that night we went off to Fox Studios as Will and Jeff were performing at the 'I, Robot' premiere. As I carried Jeff's records through the Sydney rain and the crowds to get up to the stage I couldn't help but wonder how I had got here. Jeff and Will were amazing live, the chemistry on stage undeniable. Their performance of Brand New Funk was as good a hip-hop performance that I have ever seen.
As we walked through the crowds and being on the other side it was amazing to see everyone freak out when they saw Will and Jeff. Will and Jeff couldn't have been nicer and posed for photos but it was an interesting insight into Will's life. Everyone thinks it's amazing to be famous but Will couldn't even go to the shops with his son. He couldn't go anywhere without bodyguards and it must force him to live a pretty insular life. When you reach that level of fame it definitely comes at a cost.
Life as a fan
Running the web site had given me some insight into what Will and Jeff had to deal with. As the web site had grown in popularity so had the constant flood of emails and requests. Everyone had a daughter who they wanted their music to be heard, or someone who needed help in the entertainment industry, or was someone who desperately needed to contact Will. It was crazy and gave me a brief glimpse into what their life would be like. I was completely overwhelmed by the constant requests and I guess in my own mind I wanted to make sure that I never asked Will & Jeff for anything because they get that enough. If everyone wants something from you, you have to truly wonder who your real friends are.
I remember one year I actually received a present from England from the guys on the forum. Wow, I thought, people from half way around the world had gone to the effort to surprise me for my birthday. That's when I knew we had something special going on with the fans. I would see kids come onto the site when they were 12 and I would watch them grow up. Some people have even formed relationships from the site.
By early 2005 the web site was getting over 80,000 unique visitors a month. To think I was happy when 100 people had visited the web site and now almost a million people were viewing it in a year. As fans we started a podcast which had over 200,000 downloads.
Eventually I did help out Jeff with the official DJ Jazzy Jeff site. I got to write a completely new biography for him which I think addressed the misconceptions that were out in the community. Those that just knew Jeff from the Fresh Prince of Bel Air and then hadn't seen or heard from him presumed he had disappeared. Meanwhile he was one of the biggest DJ's in the world doing over 200 shows across the globe. That biography I wrote showed up everywhere even in Activision's DJ Hero Video game. I remember they had a display of the game in a store. You can select Jeff as a playable character and I watched someone do this in the store and then I got to see the words that I came up with appear on the screen which was an amazing feeling.
During 2005 and 2006 I got to see the making of The Return of The Magnificent. How amazing when Jeff told me that Method Man had been to the studio. Or to hear some of the beats he was working on and then 12-18 months later hear the finished product. I could never imagined Raheem would have blessed My Soul is not 4 Sale so well. Or the amazing track Jeff would make with CL Smooth in "All I Know." This was a fantastic album. The other amazing thing was Jeff thanked me in the liner notes. If I think back to listening to the JJFP cd's and reading all the liner notes and thankyou's as I listened to the album and then I think of the crazy amount of people Jeff knows that was an amazing thing to see.
In 2006, 2009 and 2011 I got to see Jeff perform at the Winter Music Conference in Miami. Jeff normally did three or four shows during that week. During this time I was able to meet some other incredible people and DJ's that remain my friends to this day. I also got to see Jeff with one of my best friends Coz who is a rap legend in his own right which was an amazing memory.
In 2007 when I looked around and there were massive posters of Will on the side of buildings for I Am Legend, there were posters on bus stops and ads on TV. Then you go to a full cinema to see one of Will's movies and you realise, hey I made a web site for the biggest movie star in the world. jazzyjefffreshprince.com was never about that though it was always about Jazzy Jeff and Fresh Prince, and the music and everything that came out of that. Often people didn't realise he'd done a TV show, or that he was a rapper first or that Jazz was a DJ. So the web site was always there to inform people of the history and the legacy no matter how huge a star Will became.
In 2012, I travelled to London and for the first time and met Kev, Brakes & Julie from the forum in real life. We had lunch at my cousin's restaurant and my cousin commented after how well we all got on and I said that was the first time we had ever met! We had been online friends for over 10 years but it completely transferred to real life. I also got to live out a shadow dream and see a Jazzy Jeff show with them all. After all these years that was an amazing experience.
In 2013 I got to see a show with them again. This time Kev organised to do an interview with Jeff for the web site. Jeff spent his day off which he does not get many of when he tours Europe with us to do this. That was an amazing thing to do with his time, it was a great interview and we even went for a burger in Shoreditch after.
So after 2005 and Lost and Found for 10 years there was no new music from Will. This was always essentially a music site but us loyal fans still turned up on the forum. Most were disillusioned that Will would never release another rap record, the only one who truly maintained the faith was AJ. AJ had been a member of the site since about 1998. We were the same age and have kind of grown up together maintaining our JJFP fandom over the years. Between us we managed to track down every rare b-side and Japan bonus track Will and Jeff ever did.
When Will thinks he can't put out music because he thinks people won't love it I just think Will, come and talk to me. You have some of the most dedicated loyal fans, the most incredible people, who love what you do. They are crying out for you to release more music. Jazzy Jeff & Fresh Prince fans are truly the best. The movie fans come and go but the music fans are connected to Will and feel much closer to who he is. The album's give you an insight into Will as a person so that breeds a kind of fan that is loyal to the end.
I think with the promise of new music and a world tour in 2016 it couldn't be a better gift for those long-time fans who have been listening to Will and Jeff's music all these years. As someone who started a web site that was really looking back at their career who could have imagined how amazing their careers would become in the 20 years after. It has been a true pleasure to track it.
So when people talk about Jazzy Jeff & Fresh Prince they might think of Summertime, Parent's Just Don't Understand, Boom! Shake the Room or the Fresh Prince of Bel Air. You mention Jazzy Jeff and Fresh Prince to me it reminds me of how good life is and how good it can be. It reminds me that anything is possible in this world. It reminds me to follow your dreams. It reminds me of some of the best memories of my life that I am so thankful for. All because some kid from Australia started a web site about his favourite rap group 20 years ago.
Acknowledgements
Matthew Price – The Site would not be possible without you. I know 7 kids and running your own business means there hasn't been time to redesign the JJFP site but it wouldn't have happened without you!
Jason Jones (Hax) – whenever the site was down, hacked or something happened Hax was there to save the day, all while he was doing a tour of Iraq & Afghanistan for his country. Such a stand up guy! Thank you!
AJ – My online JJFP potna! We were 18 when we started this journey and I feel like we've grown up all while maintaining that interest in JJFP.
The London Crew (Kev, Brakes, Julie) – Family, friends, JJFP 4 Life!